Old English Indoor-Outdoor Game
Shuffleboard is an old English game dating back to the 15th century that gained popularity in the US when WWII soldiers coming back from the war brought the love of the game back with them. The game can be played indoor on a table or outdoor on the ground by pushing pucks across the playing surface, attempting to get as close to the edge as possible.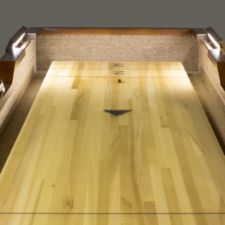 The first thing to consider when purchasing a shuffleboard table for your home is the size of the table and the space you have available. Tables range from 9 to 22 feet in length. Professional tables are 20 inches wide and 22 feet long. For room space, you will need at least 3 feet of clearance on each end for players to stand.
Typically the wider and longer the table, the more expensive it will be. A middle of the range table (12'-16' long and 16" wide) is a less expensive option that also uses less space in your game room.
Tables are usually made from solid white maple or North American maple, giving them a long-lasting, sturdy construction. They can also be made from other less expensive quality woods like Canadian soft maple or Russian birch. The cheaper the wood that is used, the more likely it will be affected by weather and moisture over time.
The surface of the table is made from layers of laminated wood fused together with the boards running vertically. The top coating is made from a high-quality polymer that provides a shiny, smooth finish that allows the puck to glide evenly over the surface.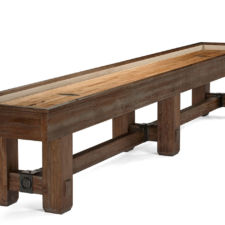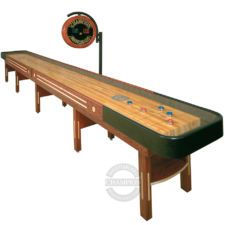 Tables are made with a slight concave curve to slow the puck from sliding off the end. To keep the table from warping over time due to humidity, adjustable metal braces call climatic adjusters can be added to keep the original concave curve of the table.
If you are considering purchasing a shuffleboard table for your home, come visit us in our downtown Wichita showroom or give us a call (316) 262-3539.